for Grades 3-5
Questions?
Becca Klemm ( ) - DCE Intern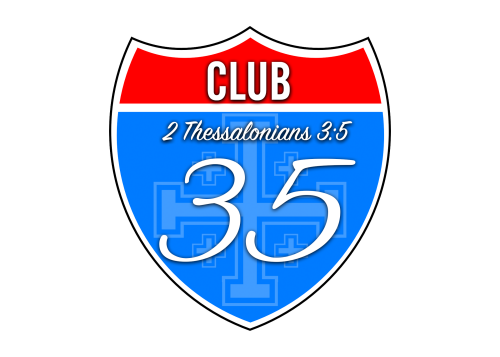 The Summit 2019 – For 4

th

& 5

th

Graders:
All 4th and 5th graders are invited to attend The Summit, a one-day event hosted by the Pacific Southwest District on Saturday, April 6th, from 9:00am-3:00pm. At the Summit, youth will enjoy worship, breakout sessions, games, and service opportunities together as we learn more about what it means to work for the Lord. Cost is $50 per person and is due to Becca Klemm by Friday, March 1. We also need parent drivers! Find Becca Klemm ( ) for more information and registration forms. Click on the link BELOW for the registration packet.
Calling all 3rd-5th grade students! You are invited to be a part of Club 35, a time to come together and grow in God's Word and fellowship, all while having fun! Club 35 will begin meeting this month. We will meet the 2nd and 4th Wednesday of each month from 6:00-7:00PM in the Multipurpose Room (Room 215).
Club 35 Upcoming Dates:
February 13 & 27
March 13 & 27 - *(5:45-6:45PM before Lent Service)
April 10 - *(5:45-6:45PM before Lent Service)
May 8 & 22
June 12 *TBD
Looking to volunteer with Club 35 or have questions? Contact DCE Intern Becca Klemm at or (317) 446-7987.
Register for Club 35 by clicking HERE. Also, all Club 35 youth need to have a Yearlong Youth Ministry Permission Form* on file to participate in any Youth Ministry event at Bethany. *Scroll further down this page to download a copy of this Yearlong Youth Ministry Permission Form.
Message from Becca, Dce intern
Bethany Families,
My name is Becca Klemm and I am the new DCE intern for this year. I am so excited to start working with you all. I would love the opportunity to sit down and get to know your family more by setting up a home visit. While I will mainly be working with kindergarten through 5th grade, I would love to have a home visit with any family at Bethany.
I have a very flexible schedule and am available Sunday-Thursday evenings. If you would like to schedule a home visit, please don't hesitate to contact me. I can be reached by email at . I look forward to hearing from you and working together this year! – Becca Klemm, DCE Intern
Important Forms to have on File:
*Turn ALL forms for Club 35 into Becca Klemm, DCE Intern.
Yearlong Youth Ministry Permission Form...Make sure that you have this form on file to participate in ALL YOUTH Events. Forms are available in the Youth Center if you need to fill one out or click on the link to print a copy. For the NEW September 2018-August 2019 form click HERE.
Use of Personal Automobile Form...PARENTS, if you are a driver for any youth event, please fill out this form and have one on file for this school year. For the NEW September 2018-August 2019 form click HERE.
Acolyte and Crucifer Program Volunteers:
Boys and girls in the 4th through 12th grades, who are members of Bethany Lutheran Church or non-members who participate in one of Bethany's education programs (e.g. Kid's Bible Discovery, Christian Day School, or Confirmation classes) are eligible to participate.