Missionary Support
Mission Alaska 2020:
Commitment forms for this year's short-term mission trip to Alaska are available. Forms must be completed and deposits ($600/person) must be received by Sunday February 16th. Click HERE for the link to the online commitment forms or use the QR code below. Tentative travel dates are July 17-27th. Missed the info meeting? It's not too late! Contact Pastor Seth for more info or if you have questions.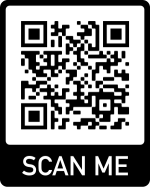 -Pr. Seth Moorman,
Cook's Night Out Event:
*Click on the name of the restaurant to download the flier.
Mission Kenya 2019:
Thank you all so much for your prayer and support of our mission trip to Kenya. God is indeed doing some amazing things in and around Nairobi.
- Pastor Seth and Andrew Andersen