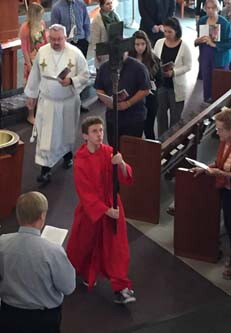 The Acolyte/Crucifer Ministry of Bethany Lutheran Church is designed to give young people the opportunity to participate in the worship life of our congregation in a special way. Training & recognition will be provided for those young people who choose to serve the Lord through this ministry. If you are currently serving as an acolyte/crucifer, you will be receiving an email from our office to confirm your continuance in this ministry.
Eligibility: Youth people, both boys & girls in the 4th-12th grades, who are members of Bethany Lutheran Church or non-members that participate in one of Bethany's education programs (e.g. Bible Discovery, Christian Day School, or Confirmation classes).
Questions? Contact Karl Fink at 562-421-4711, ext. 19 or .
Sign ups through December 2022 are now open. A crucifer is needed to sign up first, then the acolyte position may be filled. Click HERE to sign up.