Upcoming Events @ Bethany Lutheran Church
*Dates are listed in order of occurrence. Dates and times may be subject to change.
Church Office Hours:
Monday-Thursday from 7:30AM - 12:00PM noon. Closed Fridays.
*Church offices will be closed on Monday, May 30 for Memorial Day.
Music Ministry Grant
The Ministry of Music is offering grants to members of Bethany Lutheran Church who are involved in some area of music at Bethany. A total of $500.00 will be awarded and applicants may request any amount up to $500.00.
Applicants must:
Be at least 12 years of age. If under 18 years old, a parent must submit application.
Be involved in some area of music at Bethany Lutheran Church.
Use the grant money to further his/her music education.
Be taking some type of music lesson, be majoring or minoring in music at the college-level, or participating in some area of music, i.e. vocal, instrumental, or teaching.
Applications are available in the church office and are due on May 31st. they may be turned in or mailed to the church office. If you have any questions, you may call the church office.
RETIREMENT CELEBRATION
RAISE A GLASS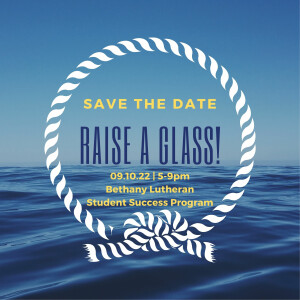 Save the date to set sail and Raise A Glass! for Student Success - Saturday, September 10th from 5-9pm on Bethany Lutheran Campus!
Evening Includes:
Silent Auction & Opportunity Drawings
Naples Rib Company & Drinks
Tickets are $70 each and include dinner and two drink tickets
*no one under 21 will be served alcohol
Donations for the silent auction are also welcome! Please contact Sheri Esswein to arrange your donation and for any questions; contact the church office for Sheri's contact information.
NEW Dates for Women's Retreat - Mark your calendars!
It is with great joy that we announce the new dates for the Women's Retreat at Bethany. Please save the dates of Friday and Saturday, January 13 and 14, 2023, when the women at Bethany, The Gathering and Holy Cross are invited to join us for study, fellowship, food, and fun. We will meet on campus on Friday evening. Check-in begins at 6:00PM, and the program will start at 7:00 PM. Saturday's event will begin at 8:30AM, with a Continental Breakfast. Lunch will be provided and served at noon. The final program will conclude with a Communion Service at 3:30PM. We give thanks for Dr. Carol McDaniel's willingness to be our guest speaker and to lead our group in study over the weekend. Registration information will be available in early Fall. Stay tuned. The Women's Retreat Committee of Bethany, The Gathering, and Holy Cross.
RAISE RIGHT

Raise funds by buying gift cards from RaiseRight to pay for your everyday shopping and spending year-round. Groceries, dining out, home improvement, and everything in between. It's the most convenient and effective way to fundraise because earning becomes part of your everyday life. Plus, gift cards are great for helping you to set and keep a weekly budget.
It's never been easier to create opportunities for what matters most to you. No extra money spent. No extra time wasted. The best part is that you can put your rebate to work for a Bethany ministry that matters to you! Sign up today! Ask me how! For more information regarding Scrip purchases, click HERE!
- Ruth Lopez, Scrip Coordinator, , 562-420-7783 ext. 58