Upcoming Events @ Bethany Lutheran Church
*Dates are listed in order of occurrence. Dates and times may be subject to change.
Church Office Hours:
Monday-Thursday from 7:30AM - 12:00PM noon. Closed Fridays.
Church Offices will be closed on Monday, December 25 & Tuesday, December 26 for the Christmas Holiday.
Church Offices will be closed on Monday, January 1 for New Year's Day.
Rooted:
We're excited to announce that ROOTED is coming back to Bethany!
Sundays: Jan. 7 – Mar. 17, 2024 from 11 am – 1 pm.
Women's and Men's groups
Childcare free for kids potty-trained to 5th grade
Break for President's weekend
Group service projects in community
Closing celebration Sat. March 23, 2024 noon
Online Registration: Now to January 2, 2024 at midnight
Registration fee: $40 book & closing celebration (assistance available)
Registration for repeat Rooted Participants is $20. (without a new book)
ROOTED is not a program, seminar or life-long small group; ROOTED is a catalyst for life change. ROOTED provokes questions and conversations that are designed to help us find ourselves in God's story. Rooted is a means to further you walk and our walk together as disciples of Jesus!
You won't want to miss this life-changing experience connecting you with God, the church and your purpose. Come by the table on Sundays to hear exciting stories about ROOTED and pick up a postcard to share with others. To register click on the link: https://bit.ly/rooted24.
Cook's Night Out:
Enjoy an evening of no cooking while helping our BLS 8th graders raise funds for the Washington DC trip! Click on the name of the restaurant for flyer. The flyer will have all the details as well as time & location of each restaurants Cook's Night Out event.
Upcoming dates:
Book Fair!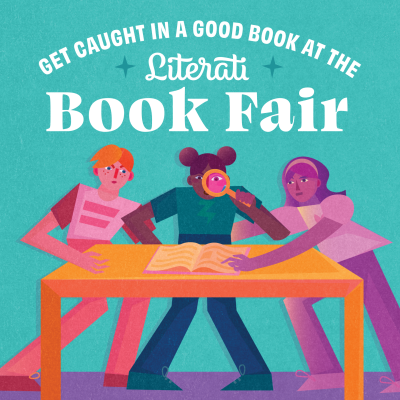 Our High School Youth Ministry sponsored Literati Book Fair is coming to Bethany! Sunday, December 10th to Sunday, December 17th in the Parish Lounge. Start checking off gifts from your Christmas lists and give the gift of reading! Proceeds from this fair help support our High School Youth Ministry.
Book Fair Hours:
Sunday, December 10 – 7:30-11:00AM, PLUS we will be open after each Christmas concert!

Monday, December 11 – 8:00-9:00AM, 12:00-1:00PM & 3:00-4:30PM

Tuesday, December 12 – 8:00-9:00AM, 12:00-1:00PM & 3:00-4:30PM

Wednesday, December 13 – 8:00-9:00AM, 12:00-1:00PM & 3:00-4:30PM, PLUS a Special Family Night

from 5:00-6:30PM

Thursday, December 14 - 8:00-9:00AM, 12:00-1:00PM & 3:00-4:30PM

Friday, December 15 - 8:00-9:00AM, 12:00-1:00PM & 3:00-4:30PM

Sunday, December 17 – 7:30PM-11:00AM
52

ND

Annual Christmas Concerts: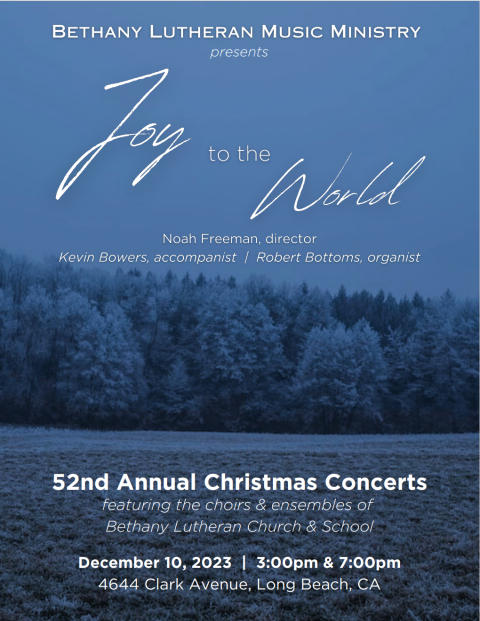 On Sunday, December 10, a 52-year community Christmas tradition will take place at Bethany Lutheran Church of Long Beach, as it has since 1969. The public is invited to attend one of two Christmas concerts, "Joy to the World," at 3:00PM or 7:00PM Seating is available on a first-come-first-served basis. There is no admission fee. A freewill offering will be received to benefit the Music Ministry and Music Scholarship Fund.
Noah Freeman, Director of Music and Worship Arts, will lead this year's concerts and has selected a variety of sacred choral and orchestral music. Sure to delight concert attendees is an array of uplifting anthems including "Hark! The Herald Angels Sing" by Dan Forrest. Bethany's adult choir will present anthems by John Fergusson, Jeffrey Blersch, Jonathan Kohrs, and David von Kampen. The Jubilate Handbell Choir will present "We Three Kings" and "Angels from the Realms of Glory". Children's choirs will also be featured singing anthems, which tell of the birth of Jesus Christ, the Savior of the world. Guest organist is Robert Bottoms.
RAISE RIGHT

Raise funds by buying gift cards from RaiseRight to pay for your everyday shopping and spending year-round. Groceries, dining out, home improvement, and everything in between. It's the most convenient and effective way to fundraise because earning becomes part of your everyday life. Plus, gift cards are great for helping you to set and keep a weekly budget.
It's never been easier to create opportunities for what matters most to you. No extra money spent. No extra time wasted. The best part is that you can put your rebate to work for a Bethany ministry that matters to you! Sign up today! Ask me how! For more information regarding Scrip purchases, click HERE!
- Ruth Lopez, Scrip Coordinator, , 562-420-7783 ext. 58