Sunday, December 10, 2023, 3:00 PM - 4:30 PM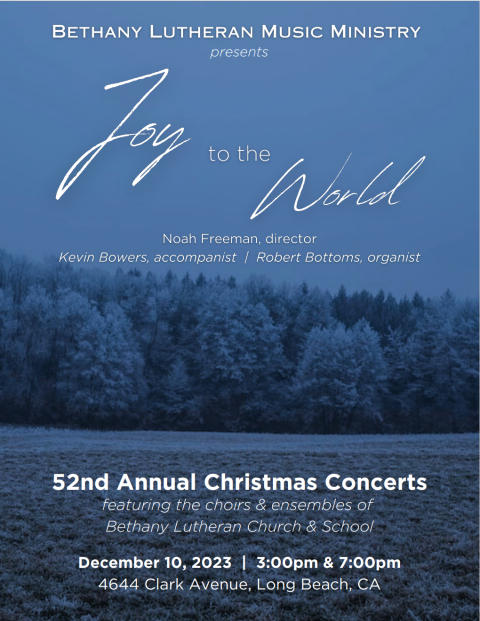 52nd Annual Christmas Concerts:
On Sunday, December 10, a 52-year community Christmas tradition will take place at Bethany Lutheran Church of Long Beach, as it has since 1969. The public is invited to attend one of two Christmas concerts, "Joy to the World," at 3:00PM or 7:00PM Seating is available on a first-come-first-served basis. There is no admission fee. A freewill offering will be received to benefit the Music Ministry and Music Scholarship Fund.
Noah Freeman, Director of Music and Worship Arts, will lead this year's concerts and has selected a variety of sacred choral and orchestral music. Sure to delight concert attendees is an array of uplifting anthems including "Hark! The Herald Angels Sing" by Dan Forrest. Bethany's adult choir will present anthems by John Fergusson, Jeffrey Blersch, Jonathan Kohrs, and David von Kampen. The Jubilate Handbell Choir will present "We Three Kings" and "Angels from the Realms of Glory". Children's choirs will also be featured singing anthems, which tell of the birth of Jesus Christ, the Savior of the world. Guest organist is Robert Bottoms.