Sunday, October 30, 2022, 4:30 PM - 7:30 PM
Oktobearfest!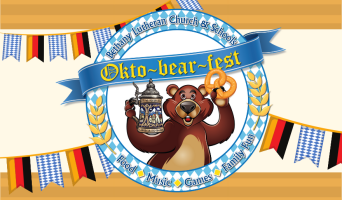 Join us as at our Okto-bear-fest celebration on Sunday afternoon October 30th.
Food & Beverage Sales are NOW closed.
If you would like to purchase an Oktobearfest t-shirt, there are some t-shirts available. Cost is $30 each. The navy blue cotton t-shirts are ADULT Sizes: S, M, L, XL, 2XL & 3XL. These are now on a first come/first serve basis, quantities are limited. If you wish to purchase one, you may buy them in the church office the week leading up to Sunday's event and remaining t-shirts will be available for purchase at the event.
Below is the scheduled information for this event:
Activities include our Trunk or Treat (*admission to Trunk or Treat = 1 bag of candy per family & a canned food item), a traditional German feast with all the trimmings (order food/drink below), we will also be collecting canned food to support the hungry in our community. A day of live entertainment, good food, plenty of fun and fellowship with the entire Bethany family.
4:30 - 6:00 PM.....Bethany Lutheran Schools, "Trunk or Treat*" in the Bethany Parking Lot
5:30 PM...............Costume Parade
4:30 - 6:30 PM.....Food is Served
4:30 - 7:30 PM.....Oktobearfest (under the tent)
This event is the one major time the entire Bethany community gathers during the year. Families from the Congregation and from the Schools of Bethany join together to connect with each other; enjoy one another's company and celebrate the One sent into the world for us, Jesus, who sends us out into the world for others.