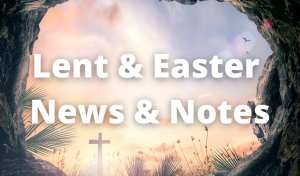 We live in a world in which many of us feel that constant demands are made upon our attention.
"Did you see that?"
"Check this out!"
"Look at me!"
It's funny, but up until 2020, at least for me, life also seemed to be increasing at an alarming speed.
What do you mean she's already being confirmed?
What do you mean he's already driving and buying his own car?
What do you mean he's graduating from High School?
Along came 2020 and suddenly the past year no longer flew by. It was only a year ago that our Lenten Theme was "Eyes On Jesus" yet, in all honesty in my mind's eye I can't really see March 2020; it seems like such a long time ago. Whether the days are flying by or dragging on, whether our attention is required by so many and so much or we feel forgotten with nothing being asked, the temptation is to focus on all that swirls around us, or that which stirs within us. The servant of Jesus however, author to the letter to the Hebrews, invites us instead to focus on Him. "Fix your eyes on Jesus, the Author and Perfecter of your faith, who for the joy set before Him endured the cross, scorning its shame, and sat down at the right hand of the throne of God."
"Eyes on Jesus" is (again) our Midweek Lenten theme this year. Last year we only had a pair of services before all gatherings in person were suspended. This year, though we are gathering and worshipping in-person, on campus each Sunday morning, we will be gathering OFF CAMPUS, online via Facebook Live and Zoom on Wednesday Evenings at 7:00PM during Lent. - Pr. Kevin Kritzer
Mid-Week Lenten Worship:
We will gather off campus, online Worship on Wednesdays, February 17, 24, and March 3, 10, 17 & 24 at 7:00PM via Facebook Live and Zoom.
Zoom information:
Facebook Live on Facebook:
Bethany Lutheran Church Long Beach, CA
The Texts for our Mid-Week Wednesday Services are:
February 17 - Mark 14:1-11 - "Better Than a Poke In the Eye"
February 24 - Mark 14:27-31 - "Eye Contact"
March 3 - Mark 14:32-42 - "Shut Eye"
March 10 - Mark 14:43-47 - "More Than Meets the Eye"
March 17 - Mark 14:53-65 - "Eye Candy"
March 24 - Mark 15:1-20 - "The Eyes of the Heart"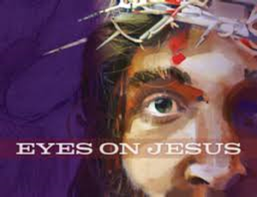 If you would like to "fix your eyes on Jesus" each day this Lent, you can use this link to purchase an electronic copy of Eyes on Jesus Lenten Devotional:
https://www.cph.org/p-33591-eyes-on-jesus-daily-devotions-for-lent-and-easter-ebook-edition.aspx

*In March, we will publish the Holy Week and Easter information.
Palm Sunday - March 28
Maundy Thursday - April 1
Good Friday - April 2
Easter Sunday - April 4