Questions?
Dr. Carol McDaniel ( ) - Minister of Music
Mara Widmann ( ) - Admin. Asst. to Music Ministry
Blake Flattley ( ) - Artist in Residence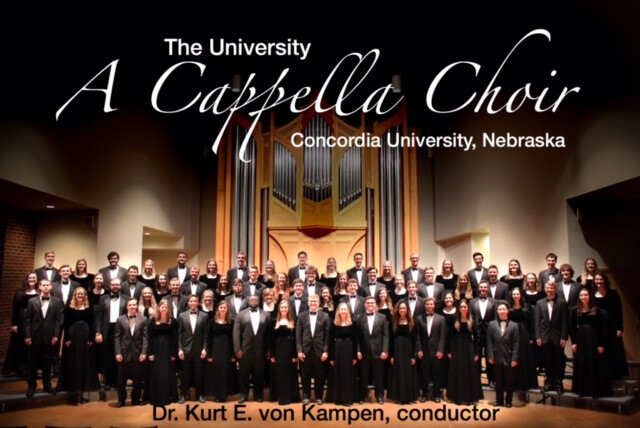 Concordia University's A Cappella Choir to perform in a Spring Choral Tour
The University A Cappella Choir from Concordia University, Nebraska, will travel to Colorado, New Mexico, Arizona, California, and Nevada for its annual spring tour March 6 – March 16, 2020. The choir will conclude the tour with two local-area concerts on Sunday, March 22nd at 3 p.m. at Christ Lincoln and at 7 p.m. at St. John Lutheran Church in Seward.
"The A Cappella Choir strives to perform music at a high artistic level – music which inspires, instructs and entertains the listener," said Dr. Kurt E. von Kampen, conductor. "But the mission of the choir goes beyond mere artistry. The University A Cappella Choir exists to proclaim the Gospel of Christ in song and to honor God with the musical talents the students have been given."
The internationally acclaimed choir will perform concerts at churches and schools in ten cities on their 11-day spring break tour. Concert sites include Kearney High School in Kearney, Nebraska, Peace Lutheran Church in Arvada, Colorado, Trinity Lutheran Church in Alamosa, Colorado, Christ Lutheran Church in Albuquerque, New Mexico, Mountain View Lutheran Church in Apache Junction, Arizona, Christ Lutheran Church in Costa Mesa, California, Orange Lutheran High School, Bethany Lutheran Church in Long Beach California (March 12 at 7:00PM), University of Nevada Las Vegas, Faith Lutheran Church in Las Vegas, Nevada, Lutheran Church of Messiah in Grand Junction, Colorado, and Redeemer Lutheran Church in Fort Collins, Colorado. The choir will perform two home concerts on March 22, the first at Christ Lincoln and the second at St. John Lutheran Church, in Seward.
The choir performs full-length concerts, school assemblies, and participates in Sunday worship services. The repertoire of sacred and secular choral compositions spans all historical periods and is representative of many cultures. This year's concert features choral music of J.S. Bach, Franz Joseph Haydn, Gioachino Rossini, Paul Manz, Stanford Scriven, Brian Edward Galante, John David Earnest, William Averitt, John Rutter, Tom Mueller, Ray Liebau, Moses Hogan, and others.
The A Cappella Choir has toured the U.S. each year, and internationally approximately every four years since its inception in 1939, performing throughout Europe, the Middle East, Australia, Asia, Mexico, and most recently South Africa. It also has participated in international choral festivals in Australia and Austria, placing first and third respectively while under the direction of Dr. von Kampen.
Von Kampen earned a bachelor's degree in music from Concordia University, Nebraska, a master's degree in choral conducting from Oakland University and a doctorate in choral music education from the University of Nebraska.
Admission to concerts is free. Free-will offerings will be taken at evening concerts to help defray tour expenses.
The University A Cappella Choir - Dr. Kurt E. von Kampen, conductor
Do you like to sing and play music?
TheWordAlive - The contemporary worship ensemble group would like to welcome those who are interested to come in and join their rehearsals to see what they do! If you are interested in either playing an instrument, singing, or both in this worship ensemble group - contact Blake Flattley at for more information.
Additional Music Ministry Information & Links:
The Bethany Choir - (formerly known as Senior Choir) rehearsals are on Thursdays from 7:30-9:30PM. This choir is open to all ages: high school, college, and adult. Kevin Bowers continues to be our faithful accompanist! Click on the link below for more Bethany Choir information and schedule.
Adult Handbell Choirs - We continue to ring praises; our rehearsals are on Monday (Intermediate Bells) and Thursday (Advanced Bells) evenings. Click on the link below for more information regarding the Handbell Choirs.
Sound Technicians are needed. We will happily allow you to "apprentice" with an experienced technician...and give you plenty of time to learn. Please call Dr. Carol McDaniel in the church office, (562) 421-4711, ext. 14, if you are interested.
Instrumentalists/Musicians/Singers - are always welcome to share their talents with us during the year. Please speak with Dr. Carol McDaniel if you have leadership ability especially with percussion, brass, string, or wind instruments. Notify the office of your current email, phone, and instruments with which you are proficient.
The Music Academy - We offer piano instruction in grades 2-8, organ instruction in grades 7-8, percussion in grades 3-high school, and trumpet in grades 4-8. If interested in joining, please speak to Mara Widmann (ext. 55) in the church office or email her at .
Children's Choirs - Our children sing praise...